Ice-Walled Lakes
Across a vast region of the Saginaw Impact's ejecta field, we see the sand being deposited on top of the Wisconsinian Glaciation ice sheet. The blanket was draped comfortably over all pre-existing landforms, including the ice sheet itself. Considering the expected insulation such a blanket would have created, the creation of the ice walled plains seem quite probable.
The ejecta is seen as a stratum of coarsely skewed clastic sand and gravel, turbulently deposited so as to present an unstratified, hummocky, highly compacted single unit, although re-working as the ice beneath wasted would be expected. The stratum would present a number of other challenging characteristics to those who examine it. Most apparent would be the total lack of terrigeneous detritus within the deposit. Neither marine, nor eolian, nor fluvial. Quite a challenge, regardless of any glacial retreat regimen discord.
Our primary focus is on the Carolina bay landforms, and we have comfortably correlated those structures in the east and midwest with an impact into the Saginaw area of Michigan. While similar "Carolina bay" shallow elliptical basin structures we are proposing may well have been created above the ice sheet at the moment of deposition, we have little expectation that they would persist through the process of de-glaciation. The debris blanket would, however, provide an insulating layer which may have delayed the melting of the burried ice for thousands of years. In addition, the natural "basin" structure we propose to be created in the depositional layer would immediately encourage the formation of an ice walled (and floored) lake.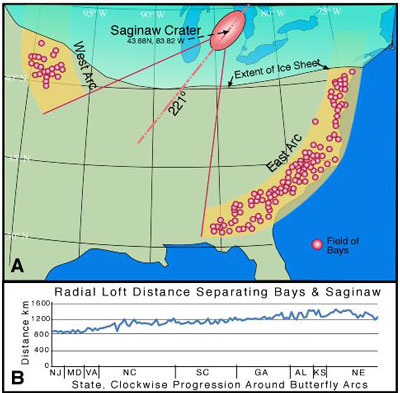 One possible outcome may have been the creation of "Ice-Walled Lakes", seen today across this very same landscape.
An intriguing presentation was made by John W. Attig, et al, entitield
Ice-Walled-Lake Plains In The Mid-Continent—What They Tell Us About Late Glacial Ice-Marginal Processes And Environments
, at the GSA North-Central Section - 37th Annual Meeting, March 24–25, 2003. Here is the abstract:
What Is an Ice-Walled Lake Plain ?
Ice-walled-lake plains form in the stagnant marginal zone of glacial Ice Sheets. They are conspicuous, but little-known, landforms within the broad bands of hummocky glacial topography extending from the Great Lakes to Alberta. They are flat-topped hills up to 50 m high and up to a few kilometers wide. Laminated offshore sediment up to tens of meters thick underlies the middle part of many of these features, and coarser shore sediment are typically present around their edges. These lake plains provide evidence of the final disintegration of the ice and the distribution of debris from the melting ice.
Some of the ice-walled lakes persisted in debris-covered ice through hundreds and thousands of years during which the climate was cold enough for permafrost to exist and for the margin of the ice sheet to retreat. Some may have persisted into the earliest Holocene, when they were inhabited by plants and animals in a climate only slightly cooler and wetter than today, indicating surrounding ice was well insulated by rock debris. Many smaller ice-walled-lake plains, especially those in Alberta, Minnesota, and Wisconsin seem to have been walled by ice but contain more till-like material than lake sediment, indicating a variety from ice-walled-lake plains with abundant lake sediment to similar features with abundant till-like sediment to collapse hummocks. In some areas hummocks surrounding ice-walled-lake plains are composed mostly of collapsed lake sediment.
Ice-walled-lake plains are important in evaluating the possible subglacial or supraglacial origin of glacial hummocks. Ice-walled-lake plains and hummocks formed where supraglacial debris slumped down ice slopes. Some debris was reworked by supraglacial streams, or in ice-walled lakes. There is no evidence that any substantial amount of subglacial material was squeezed up into the hummocks or the ice-walled lakes. Compressive flow near the ice margin, enhanced by permafrost or re-advances of ice into areas of stagnant ice, most likely contributed to the accumulation of thick masses of debris-rich ice that yielded thick supraglacial debris as they melted. The hummocky moraine surrounding the ice-walled-lake plains formed when the supraglacial debris was let down as the last ice melted.

A published paper from this same group is entitled
Ice-walled-lake plains: Implications for the origin of hummocky
glacial topography in middle North America
, which was authored by Lee Clayton, J. Attig and others:
doi:10.1016/j.geomorph.2007.02.045
An informative graphic is provided in a
web based presentation
by Chris Below of the Univerisity of Wisconsin at Eau Claire, and linked to a larger version: