Fusion Tables
More ways to skin the cat:
Google Fusion Tables
.
The survey is leveraging the new
Google Fusion Tables
as a storehouse for the ever-increasing volume of GIS data being assembled for documenting the Carolina bays. Once the data has been loaded into these on-line tables, maps and graphs can be generated. Links can then be grabbed for these "Visualizations", and the dynamic contents of the table can be presented in web pages, such as this one, which functions as a geospatial index to our original 250 fields of Carolina bays::
Fusion tables are available free to anyone who has a Google account. The facility is a bit like their spreadsheets, but specifically engineered for the visualization of data which has geographic content. Latitude and longitude are puled from the table entries you make and will geocode it for display on the virtual globe, as shown above. You can use supplied templates (or create your own custom html) to control the pop-up balloon contents. Those contents can easily display values, pictures, etc referenced from your table column entries for that geocode location.
We are using the visualizations as "indexes" into our Google Earth KML files, offering us a way to populate these web pages with examples. But more importantly, we are using extracts from the Fusion Table "
Carolina Bay Geospatial Survey
"
to populate our Google Earth KML. Here is how we do that: Each octant has a specific number - for example,
141312
- and that number is included as a metadata element for each bay located within that octant. The full table can be queried for all bays with that octant number, using the format shown here:
http://www.google.com/fusiontables/exporttable?query=select+col2+from+1tpn60gCAHkm9-yIksoO3SIGgZ6-M27f5ZrTuRQ+where+col1+%3D+'141312'&o=kmllink&g=col2
This string is used as the address for a Google Earth network linked element
141312 bays
, in DOM below. Expanding this in Google Earth, we see it is a "Fusiontables folder" containing bay placemarks. Clicking on the placemark brings up a popup with meta data for the bay, as contained in the Fusion Table. The format of the popup is html customized by us and entered into the Fusion Table map instance setup. The contents of this folder is dynamically loaded from the on-line table, allowing the local copy to be easily updated using the "refresh" menu item.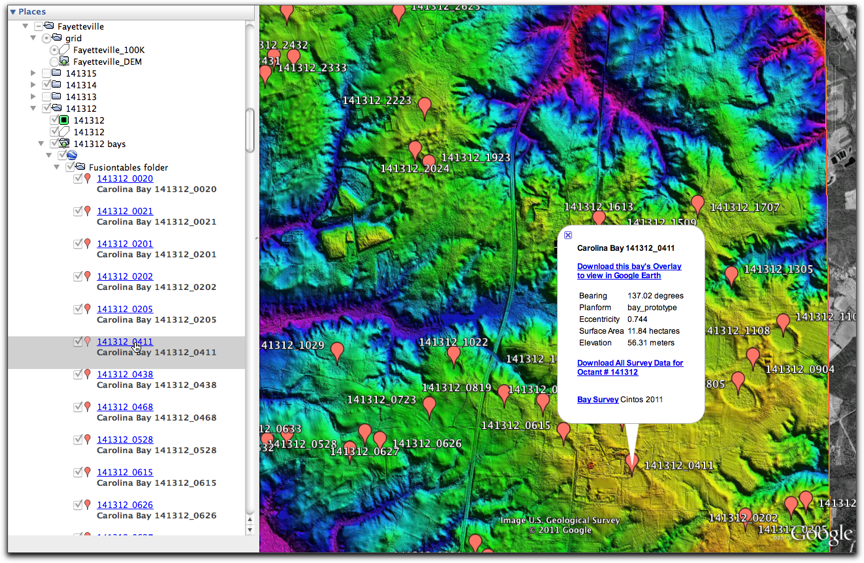 In addition, you can "visualize" the data in a few chart types. This screen shot shows the plot of my 250 bay "fields", showing how elevation above sea level graphs against the longitude. What it shows is that the bays are at increasing elevations as you move westward. No surprise, given the landscape of the US!
Perhaps the most powerful feature of Fusion Tables is the ability to not only share individual tables to others, but the option to allow for collaborative access to those tables, with several security options to control access and editing privileges. I hope to leverage this with collaborators who are helping to capture the bay metrics. Without a coordinated team effort, the hundreds of thousands of bays would never get completely catalogued.
The table bellow is a scatter plot of the eccentricity of bays between 45 and 80 hectares in size.

Fusion Table Chart of Average Bay Eccentricity by Octant (Generally South to North + Nebraska)


---
---
---
Follow the Carolina Bay Survey blog on Google +
---
Geological Research
by
Cintos
is licensed under a
Creative Commons Attribution-NonCommercial-ShareAlike 3.0 Unported License
.
Based on a work at
Cintos.org
.
Permissions beyond the scope of this license may be available at
http://cintos.org/about.html
.
---